George W. Young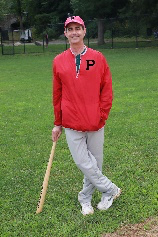 George W. Young started his professional life as a dancer in New York City in 1979, where he worked in summer stock and way-off-Broadway in musical theater, and he performed in some of the earliest music videos with Diana Ross, The Pointer Sisters, and Louise Robey.
He switched over to the other side of the camera in New York City in 1984, where he worked on national and international TV commercials for Fortune 500 companies. Directors on his credit sheet include Bob Giraldi, Joe Pytka, and Steve Steigman. He moved to California in 1988.
George spent the next 30 years working on a variety of projects including feature films such as The Nightmare Before Christmas, Junior, Serendipity, and The Internship. He also produced three video games for George Lucas based on the Star Wars canon, Rebel Assault, Jedi Knight, and Force Commander.
He worked with Larry Page at Google on several projects including the launch of Google+. He collaborated with Steve Jobs at Apple on many of the company's advertising campaigns, and the introduction of QuickTime as the standard for computer-based digital video.
In 2017 he turned his attention to writing novels including The Google Earth Murders, a serial killer reboot; and the nonfiction, Try Not to Annoy the Kangaroo, A lifetime of putting up with creative people in the film industry.
In 2021 Celestial Echo Press published TIME Blinked, which was his debut novel. DracuLAND, the story of a New York City real estate mogul who purchases Dracula's Castle and finds no vampires, but plenty of other undead inconveniences, was published by Celestial Echo Press in 2022.
https://www.georgewyoungauthor.com/
Authors in The Twofer Compendium:
Danielle Ackley-McPhail (www.sidhenadaire.com)
Antaeus (http://www.antaeus-books.com)
Peter Astle
Gabriella Balcom
Kerry E.B. Black (www.kerryebblack.com)
Steve Carr (https://www.stevecarr960.com/)
H. E. Casson
Tony Conaway
Donna Cuttress (donnacuttress.wordpress.com)
KM Dailey
John H. Dromey
Nicole Fratrich (www.coacs.home.blog)
Sharon Frame Gay (https://www.facebook.com/Sharon-Frame-Gay-Writer)
Carolyn Geduld (www.carolyngeduld.com)
Diane D. Gillette (www.digillette.com)
Chitra Gopalakrishnan (www.chitragopalakrishnan.com)
Hazel Humphreys
Frank Kozusko (http://www.frankkozusko.com)
M. Louis Lambert (http://mllambertauthor.com)
Gerri Leen (gerrileen.com)
Rod Marsden (http:/rod-marsden.id.au/)
Matt McGee (www.facebook.com/matt.mcgee.7334)
Bruce Meyer
S. P. Mount
Gregory L. Norris (www.gregorylnorris.blogspot.com)
Lee F. Patrick
Joette M. Rozanski
Emily Martha Sorensen (http://www.emilymarthasorensen.com)
David C. Strickler (https://www.facebook.com/thosegrainsofsand/)
Rose Strickman (https://www.goodreads.com/author/show/13314951.Rose_Strickman)
Dawn Vogel (http://historythatneverwas.com)
Neal Wiser (nealwiser.com)
George W. Young (https://www.georgewyoungauthor.com/)
Gary Zenker (www.garyzenkerstoryteller.com)
Authors in The Trench Coat Chronicles:
Antaeus (http://www.antaeus-books.com)
Charles Barouch (hdwp.com/r/cdb)
Catherine Berry (caterinaberyl.blogspot.com)
Rebecca Buchanan (eternalhauntedsummer.com)
Joel Burcat (joelburcat.com)
Elaine Marie Carnegie-Padgett (https://www.authorelainemarie.com)
Steve Carr (https://www.stevecarr960.com/)
Chris Chan (https://chrischancrimeandcriticism.blogspot.com)
Tony Conaway
Willow Croft (https://willowcroft.blog)
Joe Giordano (www.joe-giordano.com)
Karen Keeley
Frank Kozusko (http://www.frankkozusko.com)
Larry Lefkowitz
Ruth Littner (ruthlittner.com)
Trisha McKee
Lee F. Patrick
Marian Powell
James Pyles (https://poweredbyrobots.com)
Viktor Rain
Alanna Robertson-Webb (https://alannaswonderousworks.godaddysites.com/)
Stephanie Scissom (www.facebook.com/stephaniescissom2019)
Andrew Sellors
Steffi Siby (https:spreadyoursmile.home.blog/)
Ann Stolinsky (geminiwordsmiths.com)
DJ Tyrer (https://djtyrer.blogspot.co.uk/)
L. T. Waterson
Gary Zenker (www.garyzenkerstoryteller.com)